Matching Cases for iPhone, Apple Watch, iPad, and Airpods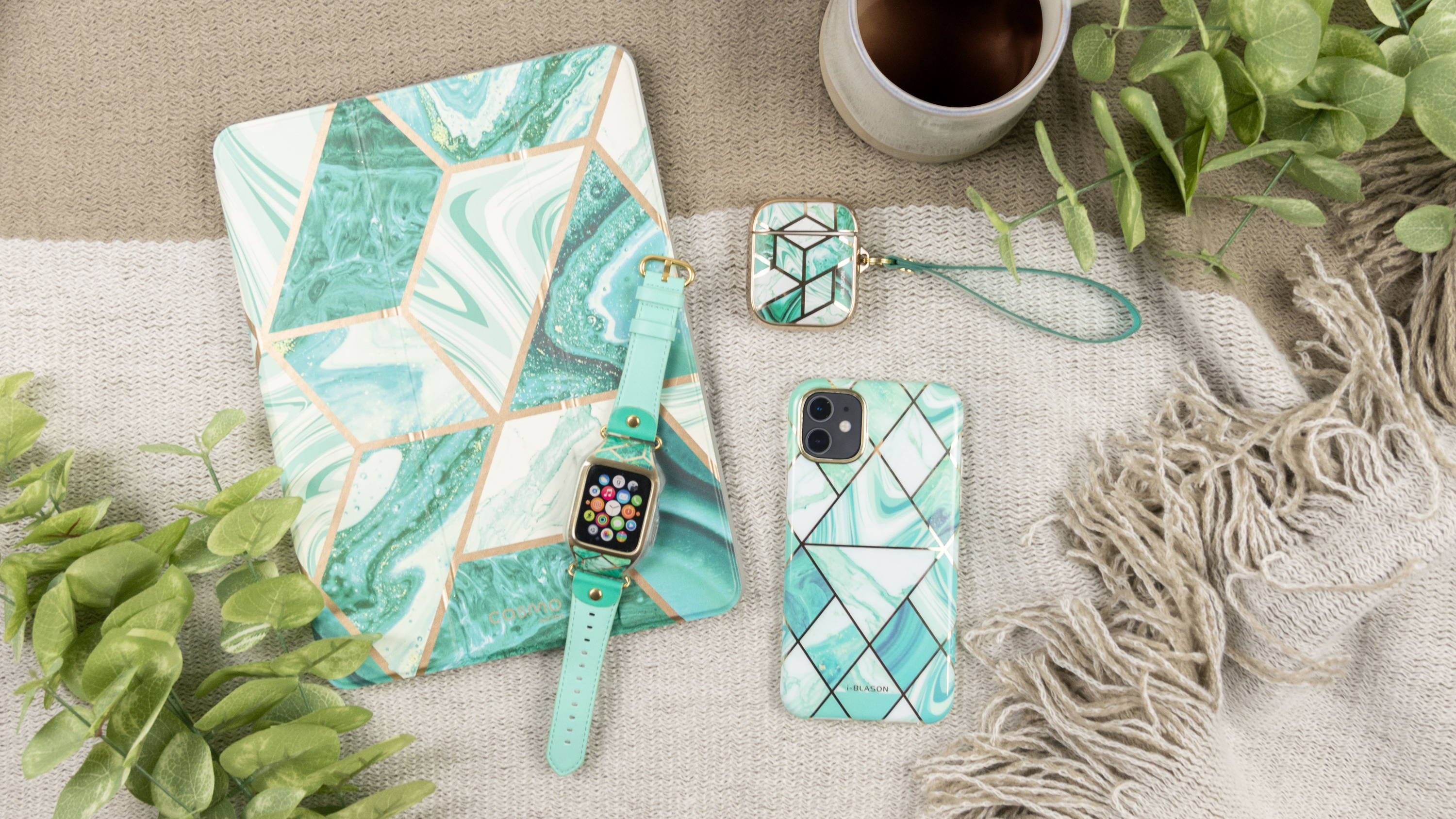 Technology has given users a device for every need and Apple has been a leading force from the start. From the iPhone to the iPad to Airpods and more, Apple offers a complete lineup of devices for your busy life. When it comes to safeguarding these devices, you need reliable cases you can count on to provide protection and a bit of style. If you are looking for matching cases for iPhone, Apple Watch, iPad, and Airpods, we have a few suggestions you need to know.


When looking for matching cases for iPhone, Apple Watch, iPad, and Airpods, the Cosmo Collection has you covered with stylish solutions you can trust. This pretty collection brings together modern marble and gold metallics in an exciting pattern. When looking for a pretty in pink option for the trendsetter on the go, the pink Cosmo Collection is the winning choice. If you prefer an option less on the pink side yet still bold and exciting, the green Cosmo Collection is sure to add some style to your every day. While the style is obvious with just one look, these cases also offer all the thoughtful protection your devices need.


Made with polycarbonate and TPU for maximum protection against drops, impacts, and vibrations, this case keeps your phone safe and in style. It has a seamless design with precise cutouts to provide full access and function while offering total protection. The screen protector is built-in for added peace of mind. Best of all, this case comes in a wallet option for something even more versatile to your busy day. It is impact resistant and easy to install for a stylish choice sure to safeguard your iPhone without worry.


To show off your matching style, matching your Apple Watch case to your phone case is a smart move. This case is the best of style and protection with a cute, compact profile. The color is fade resistant and the surfaces are scratch-resistant so it will look great no matter what you put it through during your day to day life. This is an all-in-one wristband and case for a seamless addition sure to protect your watch from harm. It is shock-resistant to avoid any issues and offers wireless charging compatibility for added ease.


Once you have your matching phone case and watch case, you definitely need a stylish solution for your iPad. This option brings the same high level of protection and style to your tablet as your other devices by way of being scratch resistant, fade proof, and shock resistant. It also has the built in screen protector to safeguard your screen from harm.


Your look wouldn't be complete without a matching case for your Airpods! This case is compact for easy carrying and offers shock absorbent material to keep them safe from harm. The case is also fade proof like the others in the Cosmo Collection for added peace of mind.
---