The Best iPhone X Cases for Influencers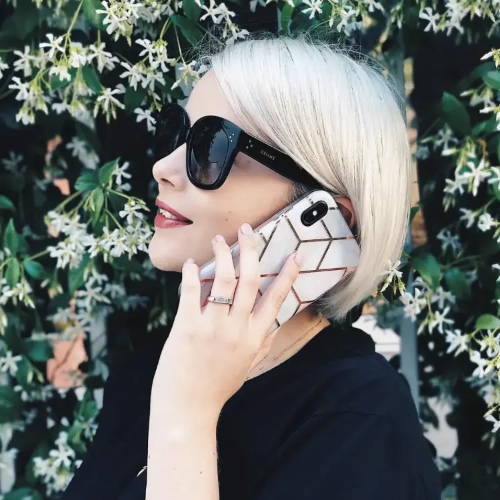 You can spot a trend before it happens. You're on your Instagram account, business page, fielding emails or calls and texting what seems like 24/7. When your entire life, and business, is on your phone, you need to ensure it looks great and is protected too. Luckily, we have the perfect iPhone X cases for influencers.
If you're an influencer then you know a picture really is worth 1,000 words and so much more. You must be your best in every picture you post, so that means thinking about your hair, face, clothes, nails, where you stand, where you take the pic, what the lighting is like and even what phone case you've got. Maybe you've become known for your unique aesthetic and you need a phone case that shouts your one-of-a-kind style in every pic you take.
We've got you. Settle in, here are the best iPhone X cases for influencers like you!


The iPhone X / XS Cosmo Designer Case
The Cosmo Designer case comes in one the hottest trend colors for any season or mood. Rose gold is one of the most enchanting, romantic metals with a touch of sophistication. The marble and marble-like patterns mimic some of the most beautiful Breccia Oniciata Pink in the world, and there's even a matching AirPods, Apple Watch, and iPad case!


iPhone X / XS OMG Sleek Designer Case
Here's a case that sparkles as bright as a clear night filled with twinkling lights. What a gorgeous case for the influencer who loves the constellations, night sky, and shining as bright as any star. It has an extremely comfortable feel as it uses i-Blason's patented silicone which also makes it slip-resistant. This case is on trend-point for those who love the night sky!
These two top iPhone X cases are the it-cases that meld form, function, and fashion to perfection. They're perfect for the discerning, stand-out influencer.
---