---
Customer Reviews
Write a Review
Ask a Question
05/19/2020
Donovan

United States
4 years +, great product!
I bought a case for each (2 total) of my twin son's own iPad back during 2015 Christmas, my boys were 3 years old going on 4 in January. My sons are 8 years old now and after all this time (4 years +) and plenty of rough treatment from some rough boys, neither of their iPads have ever received any major damage (knock on wood). A few minor scratches and that's it. I give credit to these I-Blason cases. I frequently separate and clean the cases and iPads, the case cleans very easy (I use rubbing alcohol on a paper towel). The only negative thing I can think of is that after all this time there is some minor over-stretching around the long side where the slit is to slide the iPad in. I'm trying to find a way to heat or cool the case in any way that can get the case snug again, any suggestions? Great product!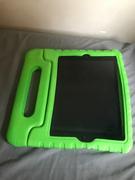 Very Good Product
My daughter has been using this product for about two months now and with a kids lifestyle she has done everything she could to break the iPad to no avail. We as parents are very pleased with this case. Definitely recommend it.
Didn't fit my tablet right
Great quality but not made for insigna
Very good for kids
I bought 2 for Christmas last year. Both are still in good shape. Nothing has broken or come apart. The handle makes it easy to grab and go. The colors are bright and the cases clean easily. I also put zagg glass on the iPads because this cover does not offer protection for the screen. Both zagg covers broke within a year but not the iPad screens. I wish this case had a screen protector. It would be perfect then for kids.