Work From Home Essentials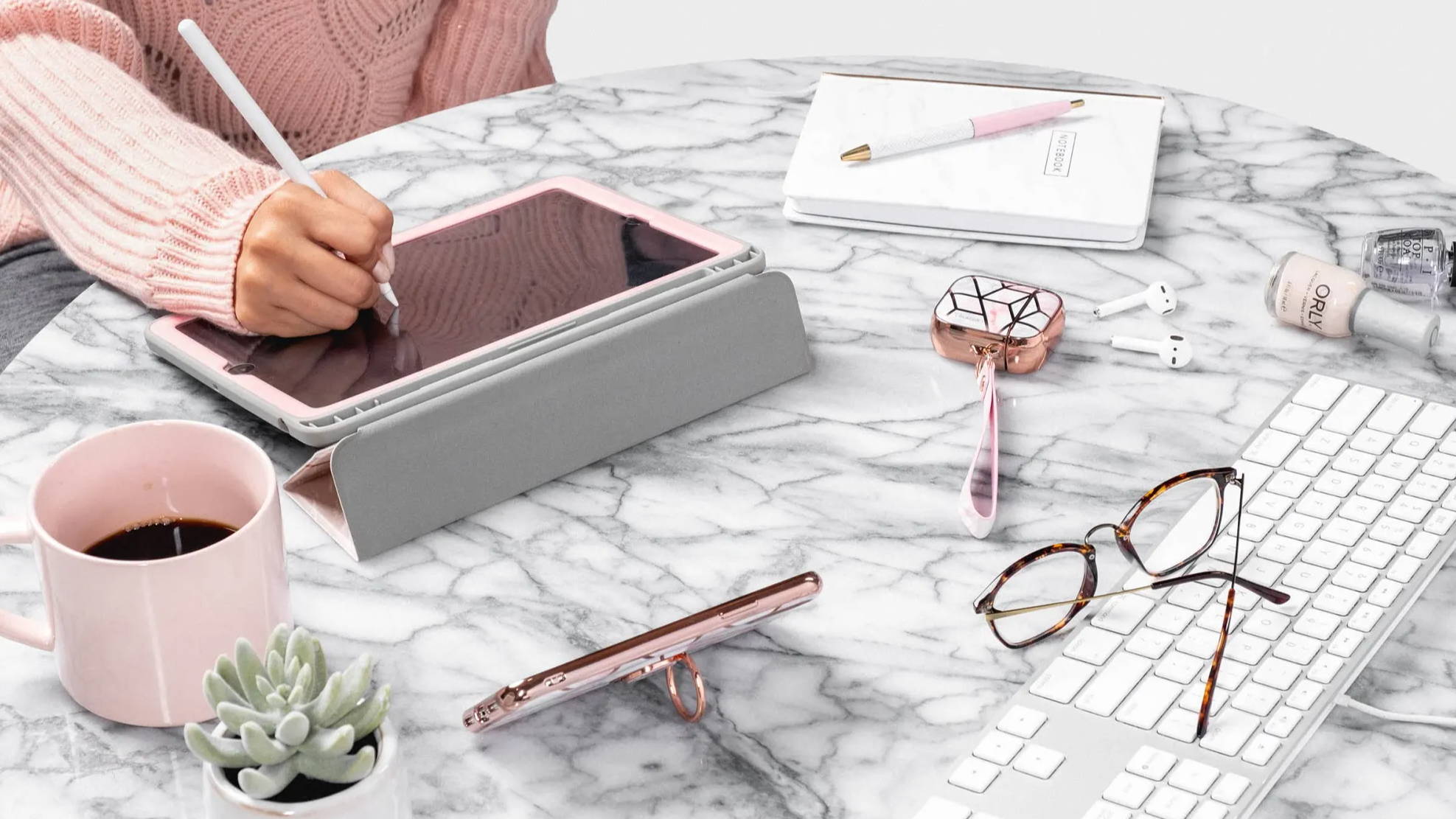 A lot of us find ourselves working from home these days. Whether you've always worked in the comfort of your PJs or if this situation has totally changed your typical workday, make sure you have the tools you need to be productive in your home office. This could be as simple as an iPad case with a stand or an additional charging cable for your phone. Comfort and functionality encourage productivity, which we can all use a little more of during the week. We've gathered up a list of Work from Home Essentials that you can incorporate into your routine right away.


Tablet Case with A Kickstand
Do you work with a tablet during the week? A useful addition to your workspace is a tablet case with a kickstand. With a built-in stand, you can take advantage of the elevated position for landscape viewing and working. If you're a creative, this is an ideal position for illustrating and design work. During lunch breaks and free time, use the kickstand to watch your favorite shows or video chat with friends and family. We offer tablet cases – Cosmo and Armorbox are some of our most popular. The Cosmo Series uses beautiful designer patterns that will liven up your desk and look excellent on your tablet. Not only does the Cosmo have a kickstand, but it will hold Apple Pencils as well. With a built-in screen protector and TPU bumpers, it's the total package. The Armorbox Series offers a more utilitarian, rugged look that prioritizes protection. With a dual-layer back cover and built-in screen protector, you can watch shows and work from anywhere without fear! We offer these cases for Apple iPad, Samsung Galaxy Tab A, and Microsoft Surface.


Lightning Cables and Dock Stations
A few additional charging cables can really come in handy at your desk to keep your phone and tablet fully charged throughout the day. Instead of needing to run to your bedroom to get your sole charger, you can have desk-specific ones. We offer MFi-certified lightning cables that are compatible with most Apple devices. They're designed with heavy-duty anodized aluminum shell for rugged durability and come in several colors to match your desk like rose gold and white. Choose the standard 3-foot cable or the longer 6-foot option so your devices are comfortably within reach.
Docking stations are another great option that will keep your desk organized. These offer C-Type charging capability and include USB and lightning cable ports on the sides. They give desks a polished look and a designated place for your phone.


When working from home, you may switch between working at your desk to your couch or an outdoor area. Keep your MacBook protected during accidental falls or bumps with a quality cover. Even a simple drop from a table to the floor could cause damage. Our collection of covers offers full coverage for your laptop so you can feel comfortable moving about your home with laptop in hand. From the designer Cosmo lineup to the frosted looks of the Halo collection, you can find the perfect style that complements your personality. For the highest degree of protection, the Armorbox case will safeguard your Mac with its rugged bumper design. No matter which style you choose, i-Blason laptop covers are easy to install and won't detract from the look of your Mac notebook.


Aside from these tech accessories, there are many other things to have on hand at your desk for easy organization and productivity. One of these is a desk calendar, which will help you keep an eye on upcoming deadlines and meetings. Digital calendars are great but having a physical one for backup is always useful! You should also have a small notepad and sticky notes for note-taking, ideas, things to remember, and whatever else. If you're the type of person that stays organized by color, a new set of markers or highlighters will be the perfect addition. Even a fresh set of pens can be motivating for many people. Work with music? Consider adding laptop speakers to your workspace to help keep you focused during the day. Whatever you were used to having in your normal office, try to recreate it at home.
When it comes down to it, it's the small things that make the largest impact when working from home. Your comfort and how your space is set up directly impacts your ability to get things done. An organized, functional workspace is a happy one. With these must-have work form home accessories, you will see that your desk or other work area is more streamlined and efficient.
---